L.L. Bean Gore-Tex Cresta Hikers, 30th Anniversary
Yes, I was happy to finally get my hands on a pair! Seems that being a size 12 when there is a limited edition of any type of footwear is not good.
Excited? YES, but I knew what I was in for before they arrived at my local L.L.Bean shop. A few weeks, while I was hanging out with friends. a guy who was also just hanging out with friends had a pair on. We talked about classic hikers for a few minutes then I handed him my boot guy card. Ya, I have cards. At that moment he said I know who you are! I watched all your videos on redwing heritage boots. Then the boots came off. I never had to ask. The power of the boot guy card.
let's look at this boot.
This 30th-anniversary edition of our bestselling backpacking boot, still expertly constructed of fine Italian leather for outstanding durability and performance.
From mountaintops to deep canyons, these premium European hikers have seen every continent and thousands of trails. But it all started in Montebelluna, a small Italian town near Venice. Galliano Bordin has been designing high-quality hiking boots here for over 30 years using only the finest Italian leather. And it is here that the Cresta Hikers were born. Thanks to Bordin's passion for his craft, it's no surprise the Crestas have been our most beloved hiking boots for so many years.
Construction
Weather-resistant suede-and-leather upper with nylon-fabric upper.
Nylon-tricot lining.
Gore-Tex® waterproof, breathable membrane inner lining.
Removable nylon-covered foam insole.
Contoured insole for arch support.
Rubber midsole.
Tapered thermoplastic nylon shank.
Vibram Rawsthorne rubber outsole is lugged for high traction.
Braided polyester laces.
Thermoplastic reinforced toe box & heel counter.
Additional Features
Fine Italian leather for outstanding durability and performance.
Built with unparalleled European craftsmanship.
Fully gusseted tongue.
Imported.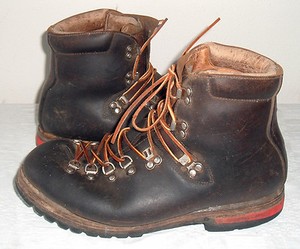 As so made in romaina.